WARSZAWA, POLSKA – 11.03.2021 – Klabater Studio oraz Juggler Games z wielką przyjemnością informują, że zbiórka w serwisie Kickstarter dla gry The Amazing American Circus zakończyła się sukcesem! Już na dwa dni przed zamknięciem ufundowano projekt w 100%!
Trwająca 30 dni kampania crowdfundingowa spotkała się z dużym entuzjazmem. Już w pierwszych godzinach projekt TAAC otrzymał od Kickstartera odznakę Project We Love. Łącznie 222 osób wsparło kampanię pozwalając nam zebrać budżet w wysokości €11.171,00.
Najchętniej wybieranym pakietem był Juggler's Tale o wartości €25,00. Jego fundatorzy już niedługo otrzymają zawartość: 24 stron ręcznie rysowanych, cyrkowych ilustracji, cyfrową wersję książki kucharskiej z przepisami prosto z gry (stworzoną dzięki współpracy z Nerd's Kitchen), pakiet pięciu dodatkowych kart do wykorzystania w grze, dodatek "Dark Passenger", a ponadto 60 minut cyrkowego soundtracku, zestaw wysokiej jakości tapet z gry, specjalną drukowaną wersję Collector's Edition oraz dostęp do zamkniętej bety.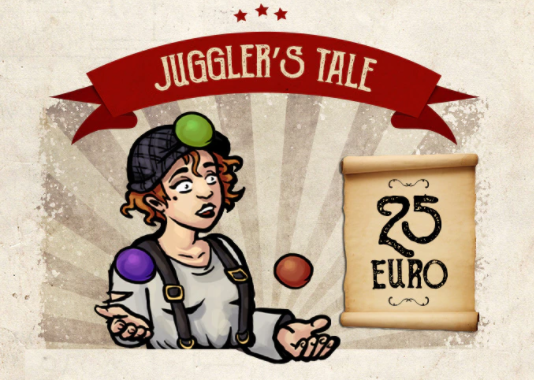 Wcześniejsze ufundowanie kampanii pozwoliło nam na ujawnienie dodatkowych celi, tzw. stretch goals. Pierwszy z nich, dodatkowy region "Freezing Alaska" także został osiągnięty. Gdy tylko dodatek zostanie opracowany, gracze będą mogli odwiedzić lokacje nie tylko rozległych Stanów Zjednoczonych, ale także oddzieloną granicą z Kanadą, mroźną Alaskę.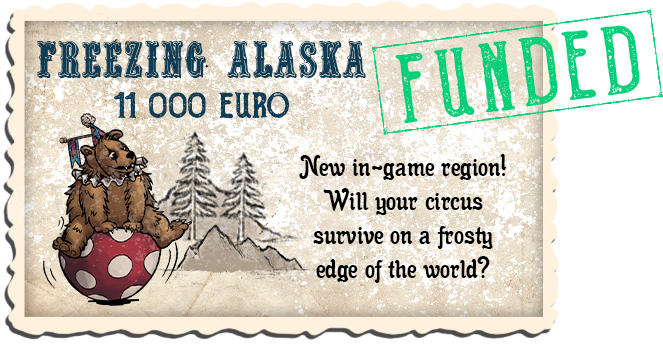 Strona zbiórki oferowała graczom szereg grafik z gry, zwiastun z rozgrywki oraz nagrania Dev Diary, w których deweloperzy opowiedzieli o mechanice rozgrywki, scenariuszu oraz inspiracjach. https://youtu.be/VURhlTRSFhQ
W trakcie kampanii udostępniliśmy wczesne demo, którego recenzje opublikowały media:
Również streamerzy udostępnili swoje materiały dzieląc się wrażeniami, zachęcamy do obejrzenia:
Wszystkim, którzy wsparli nasz projekt, serdecznie i z całego serca dziękujemy!
Premiera gry The Amazing American Circus zaplanowana jest na 20 maja 2021 na PC oraz konsole Nintendo Switch, PlayStation 4/5 oraz Xbox One/ Series X.
---
Zostańcie z nami po ciąg dalszy naszych przedpremierowych działań!