Breast cancer is a global health problem. For the year 2018, the American Cancer Society has estimated that there will be approximately 266,120 new diagnoses of invasive breast cancer in women, 63,960 new cases of noninvasive breast cancer diagnosed, and nearly 40,920 deaths due to the disease within the United States alone. For the average American woman, there is a 1 in 8 chance that she will develop breast cancer during her lifetime. Though the mortality rate dropped 39 percent from 1989 to 2015 due to scientific advances in diagnosis and treatment, there is still a long way to go to achieve victory in the battle against breast cancer.
Perhaps you are seeing a lot of pink ribbons and balloons, "Pink Marathons," or "Zumba in Pink" events, and you are wondering, what is so pink about this season when tree leaves are turning red and orange? Well, it is all because of Breast Cancer Awareness Month. October has been designated by industry giants and charity organizations around the globe as the month to increase breast cancer awareness and to raise funds for its research, prevention, diagnosis, treatment, and cure. Companies, hospitals, and various agencies also promote education and provide support to those affected by breast cancer.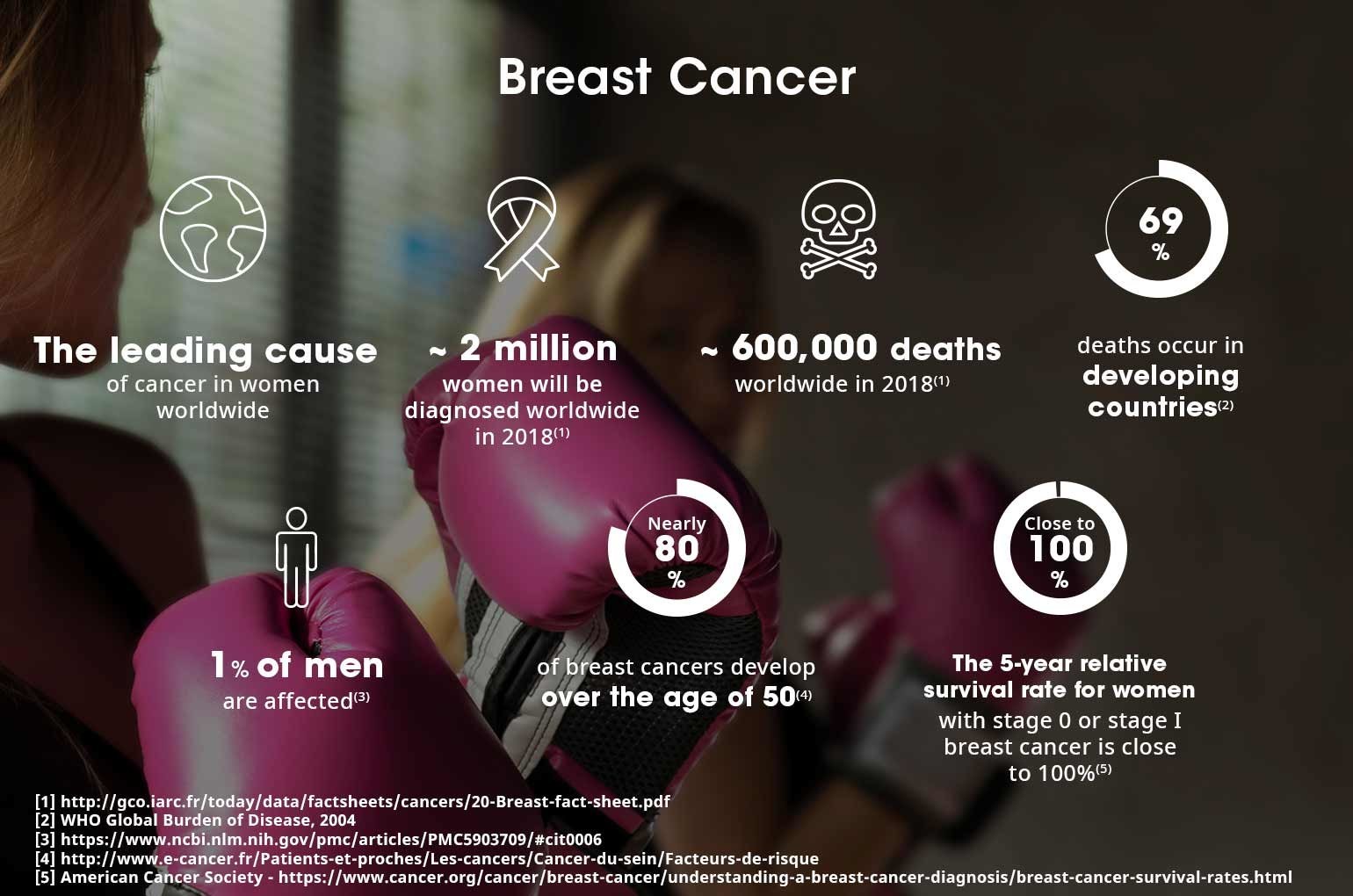 To support this initiative, the editorial team at PreScouter is proud to highlight four of this year's most amazing research advances in breast cancer diagnosis and therapy.
U.S. Food and Drug Administration expands approval for the drug ribociclib by Novartis:
On July 18, 2018, the Food and Drug Administration (FDA) expanded the approval of ribociclib (Kisqali) in combination with an aromatase inhibitor for advanced breast cancer treatment. The drug is now approved for premenopausal and perimenopausal women based on results from MONALEESA-7 randomized clinical trials and for postmenopausal women based on MONALEESA-3 trials sponsored by Novartis. The approval is especially good news for women with advanced hormone receptor–positive (HR+), human growth factor receptor 2–negative (HER2-) cancer who haven't passed menopause, as this drug, along with combination hormone therapy, can provide them with a higher quality of life.
In brief, ribociclib acts as an inhibitor of the cell cycle process by blocking CDK-4 and CDK-6 activity for cell division. It slows down the disease progression, thus providing more time for cancer treatment and eradication. "The approval adds a new treatment choice for patients with breast cancer," said Richard Pazdur, director of the FDA's Oncology Center of Excellence and acting director of the Office of Hematology and Oncology Products at the Center for Drug Evaluation and Research, adding, "We are committed to continuing to bring more treatment options to patients."
New therapeutic strategy for treating triple-negative breast cancer (TNBC):
TNBC is a very aggressive form of breast cancer; it does not respond to hormonal therapies targeting estrogen receptors, progesterone receptor targeters such as tamoxifen and aromatase inhibitors, or HER2+ treatments such as Herceptin. In a recent article published in Nature Communications, researchers demonstrated that IRE1 protein might improve the response to chemotherapy and reduce relapse for TNBC patients. IRE1 signaling in cancer is a much-discussed topic, as this protein possesses both kinase and endoribonuclease (RNase) activities and plays a major role in cell survival under stress conditions.
The latest research emphasizes the other side of this signaling cascade, where IRE1 RNase signaling supports the tumor progression, including angiogenesis and metastasis by production of pro-tumorigenic factors in TNBC cells. The study demonstrated in a xenograft mouse model that inhibition of IRE1-RNase activity increases paclitaxel-mediated tumor suppression and delays tumor relapse post therapy. Even with chemotherapy, a large percentage of TNBC patients currently suffer a relapse and poor prognosis; IRE1 may prove to be a good therapeutic target to help these patients, pending further studies and clinical validation.
Google AI can diagnose breast cancer:
Currently, histopathology is the gold standard technique for cancer staging that categorizes the tumors on the basis of TNM classification, which is based on tumor size, affected lymph nodes, and metastasis status. In breast cancer, nodal metastasis influences the treatment decisions regarding radiation therapy and chemotherapy. Thus, while crucial, a pathologist's job is laborious and highly dependent upon years of expertise. The healthcare division of Google AI has come up with an artificial intelligence (AI) algorithm, termed LYmph Node Assistant (LYNA), to improve diagnostic accuracy for breast cancer. The research has been published in Archives of Pathology and Laboratory Medicine  and in The American Journal of Surgical Pathology. The AI algorithm showed an accuracy of 99 percent in differentiating cancerous from noncancerous regions. The research indicates that AI could be a valuable ally, with the promise that carefully validated deep learning technologies could improve both the accuracy and availability of pathologic diagnosis around the world.
A healthy diet could help to protect against cancer:
There have been a number of studies lately reporting that good eating habits lead to lower risk of breast cancer. An article published in the journal Clinical and Experimental Metastasis proposed the potential therapeutic role of dietary long-chain omega-3 fatty acids, which are commonly found in products containing fish oil, in the control of tumor growth and metastasis. The epidemiological study indicated that dietary consumption of omega-3 fatty acids can reduce the risk of breast cancer as well as prolong survival in mice implanted with mammary tumor cells.
A review article published in Molecular Medicine elaborates on how plant-based polyphenols target multiple signaling pathways that regulate key cellular processes and may aid in inhibiting metastasis and regulating proliferation, apoptosis, and differentiation of tumor cells, thus suppressing breast cancer growth by controlling the tumor microenvironment. These compounds could thus be promising candidates for supplements to traditional cancer prevention and treatment regimes, and they could also inform efforts to design novel synthetic drugs. Another recent article, published in October 2018 in Cell Reports, indicates that diet modulates mammary gland microbiota populations in a nonhuman primate model. In this study, researchers observed that consumption of a Mediterranean diet increased the abundance of mammary gland–specific microbiome populations, which may represent a potential mechanism by which diet can modulate risk of developing breast cancer.
Conclusion:
In summary, research in various disciplines is moving forward our knowledge of breast cancer treatment, diagnosis, and prevention. From FDA approval of drugs to uses of AI to improve diagnoses, as well as better insights into the genetic underpinning of one of the most aggressive forms of breast cancer and a better understanding of the positive effects of diet, researchers are finding new and promising tools to fight the battle against breast cancer.
If you have any questions or would like to know if we can help your business with its innovation challenges, please contact us here or email us at solutions@prescouter.com.